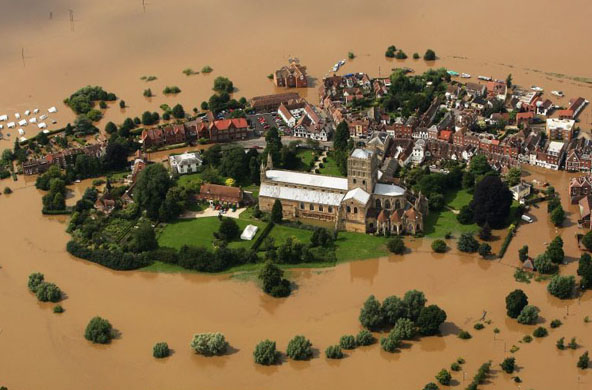 July 22 2007: The town of Tewkesbury surrounded by floodwaters
Photograph: Daniel Berehulak/Getty Images
Above image from Guardian Unlimited - Severe flooding.
Another view of this iconic image was also on the front page of the Globe and Mail yesterday, above the story Human activity altering rainfall patterns
"It's the first time that we've detected in precipitation data a clear imprint of human influence on the climate system," Francis Zwiers, one of the lead authors of the study and director of the climate research division at Environment Canada, said in an interview Monday.

"Temperature changes we can cope with. But water changes are much more difficult to cope with. That will have economic impacts, and impacts on food production, and could ultimately displace populations."

The study, to appear Thursday in the science journal Nature, comes as record rainfalls wreak havoc in Britain and force thousands from their homes.
Nature has a news item Rainfall changes linked to human activity ( doi:10.1038/news070723-4 ).
The article itself is Detection of human influence on twentieth-century precipitation trends ( doi:10.1038/nature06025 ).
We used monthly precipitation observations over global land areas from the most recent version of the Global Historical Climatology Network (GHCN)21 to analyse precipitation trends in two twentieth-century periods (1925–1999 and 1950–1999), during which observational data are considered to be sufficient to describe global-scale land precipitation change. This data set has been carefully quality controlled.
You can follow more of the discussion in the Nature climate change blog, Climate Feedback.